Welcome to Southwell Class
Welcome to Southwell Class. We will update this page throughout the year to share what we have been learning.
SUMMER

TERM 2017
Welcome back to the Summer term; I hope you enjoyed the Easter break and didn't eat too many Easter eggs! We are looking forward to lots of interesting learning and hard work in Year 6 this term. Our topic is Around the World in 80 Days. Please click on the curriculum letter below to find out more about our learning this term:
June 2017
Backdrop Painting
The Year 6 children have started to paint the backdrop for our end of year production: Alice the Musical! We are very excited to see the finished product. A huge thank you goes to Mrs Wilkins, our artist extraordinaire, who has designed and drawn out the backdrop for us.
C.S.I. Science Workshop
Jacqui and her team from PulseCSI led an excellent, hands-on science day focusing on forensic science and crime scene investigation. In the morning, the children learnt about the science of forensics from taking fingerprints to shoe and handprints and hair samples. In the afternoon, a crime scene was set up in the hall and the children donned their SOCO outfits and set about collecting evidence to try and work out who had carried out the crime! Not only did the children develop an understanding of real life science and forensics but they also developed teamwork, listening and deduction skills in order to put into practice what they had learnt in the morning.
May 2017
Cricket Tournament
Evie, Megan and Joshua joined some Year 4 and 5 children to make a team and attend the Carre's annual cricket tournament. The team displayed fabulous team work and sportsmanship and played extremely well under captain Evie; we won our first two games but unfortunately lost our third which took us out of the finals. However, we thoroughly enjoyed the taking part and the scorching sunshine. Huge thank you to Mr Foston for the very welcome ice lollies and Mr and Mrs Mountford for helping us with transport.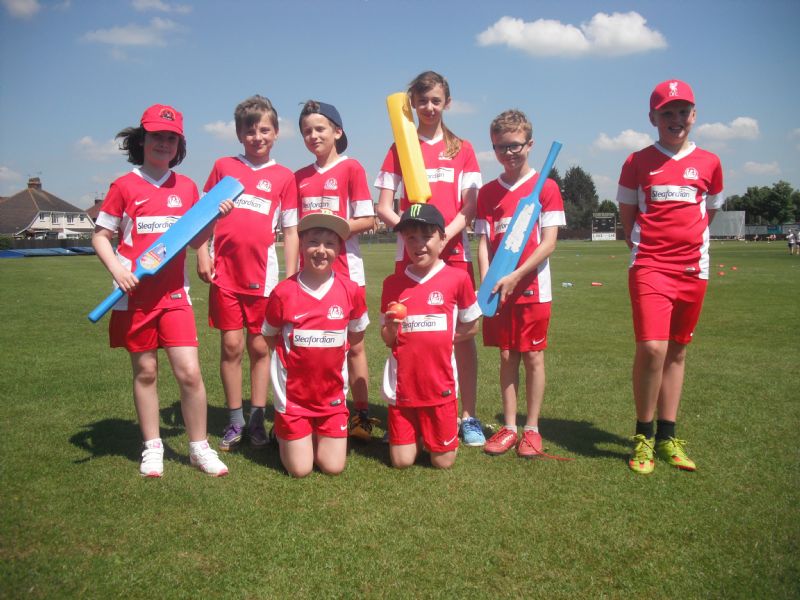 Arts' Week
To round off our week celebrating the arts, Year 6 had an excellent time djembe drumming in the sunshine in the outdoor classroom. Their drumming skills were excellent and we managed a drumming composition which included four different parts!
Finally, in the afternoon, we spent some time with York class sharing the love of reading and enjoying some good books! What a lovely way to finish a brilliant week.
On Thursday, Year 6 had an art day. We have been studying the artist, M.C. Escher this week who was famous for creating artwork through using the mathematical technique of tessellation. The children have had a go at creating their own Escher-inspired artwork.
Year 6 have continued to have some fab experiences this week during art week. On Wednesday, the Year 5 and Year 6 girls spent the morning with Mr Bailey who ran a drama workshop. It was lots of fun! They then spent the afternoon learning about a British tradition - maypole dancing. Although not too keen at first, they soon found it to be lots of fun even if it was a little challenging at times!
The Year 5 and Year 6 boys spent they day with MJ from NK Dance experiencing a range of different dance styles from street dance to ballet! Again, they had a fantastic day learning lots of new skills and finding out that dancing can be quite cool!
Year 6 have been very lucky this week to experience lots of different workshops as part of our Arts Week. On Monday, we had a visit from author David Mason who shared poetry and stories. On Tuesday, we experienced a felt workshop which was amazing!
P.E. Cricket
This term in P.E., Year 6 have been very lucky to have been taught cricket by a cricket coach. We have learnt lots of key skills!
Islam Workshop
Year 6 were very fortunate this week to have a visit from Ghada who led a very interesting and informative workshop all about Islam. Not only did we learn lots about what Muslims believe but we also learnt what it was like to be a practising Muslim and how this is lived out daily. This included learning about the Muslim practices of prayer and fasting. It was a fascinating morning and we all really enjoyed it - thank you Ghada!
Sewing Project
Wow! What an amazing finished art project that the children have been working on with the sewing ladies over the last few weeks. The children have loved working with our very talented sewing ladies - thank you!
Church Schools' Festival
Year 6 had a brilliant day at Lincoln Cathedral for the Church Schools' Festival. In the morning, we were split into different groups and experienced a range of workshops including: bellringing, beekeeping, sign language, a choral workshop and a Cathedral tour. In the afternoon, we took part in collective worship with the 20 other schools that were also attending.
SATS Week
It may be SATs week, but we are still finding time to enjoy a yummy breakfast - thank you Tesco for supporting this. We have also been outside each morning to warm up with some team games before our SATs. Well done Year 6 - you are working really hard this week showing lots of perseverence and effort! I am very proud of you all!
April 2017
Science: Flowering Plants
Our Science topic this term is life cycles and we have started by investigating the parts of a flowering plant in order to understand their life cycle. Last week, we learnt about the male and female parts of a flowering plant and labelled them on a diagram. This week, we dissected some flowering plants (thank you Bobbi's Mum!) to see if we could find and identify the different male and female parts.
SPRING TERM 2017
Happy New Year and welcome to the Spring term. We are looking forward to lots of interesting learning and hard work in Year 6 this term. Our topic is Invaders and Settlers and, in the first half term, we will be learning about the Viking Invasion of Britain. After half term, we will move on to look at a contrasting period in history: World War 1. Please click on the curriculum letter below to find out more about our learning this term:
March 2017
Easter Church Service
Year 6 led a fantastic Community Church Service sharing the Easter Story. Well done!
Hilltop
Here are just a few pictures from our week away at Hilltop in Norfork. We had a fantastic week; the children were a pleasure to take away and they developed a whole range of skills during the week.
Science: Forces
Our Science topic this term is forces. This week we have been investigating balanced and unbalanced forces using a straw and a maltesers! We carried out some experiments to show how forces affect the motion of a malteser.
We found out that if the forces on the malteser were balanced:
•the malteser that was not moving stayed still;
•if the malteser was moving then it continued to move at the same speed and in the same direction.
If the forces on the malteser were unbalanced:
•the malteser that was not moving started to move;
•the malteser that was already moving changed speed or direction.
February 2017
Maths: Long Division
There has been some excellent peer learning in Year 6 supporting and teaching other to be able to calculate using the formal method of long division.
Design Technology: Shelters
Our design technology project this term was to investigate, design and build a shelter. The children had to think about different criteria for their shelter: it had to be for a particular purpose; it had to be sturdy and it also needed to be waterproof and windproof. They worked really well in small groups and produced a range of different shelters for different purposes.
Visit to The Holocaust Centre
As part of our R.E. learning this term, we had an excellent visit to The Holocaust Centre. It was very thought-provoking and made us think about how Jewish people were treated during the Second World War. We followed the journey of Leo, a young Jewish boy living in Berlin in 1938 just before the outbreak of World War Two. In the afternoon, we listened to an excellent talk from a Holocaust survivor.
Safer Internet Day 2017
In Year 6 we have been exploring how to stay safe online, especially when sharing images. We thought a lot about first impressions and especially the impressions that photographs can give to others. We also took the emoji challenge: matching up the emoji picture with the meaning. We then designed our own emoji to reflect our personality!
Banagrams
The Year 6 Banagrams challenge has begun!! Who will be crowned "Top Banana"?
Paired Reading
Excellent peer learning with Year 6 supporting the Foundation children with their phonics and reading. We love our paired reading sessions with York class!
January 2017
Year 6 are very lucky to be working with our talented sewing ladies this term. What are they busy creating? You will have to check back later when it's all finished to find out!!
English: Persuasive Speech
In English, we have been studying one of Henry V's famous speeches: "Once more unto the breach dear friend..." We started by looking at all the persuasive techniques that Shakespeare uses in this speech; we then imagined we were a General in the army and had a go at drafting our own persuasive speeches to encourage our weary troops to keep fighting. Mrs Bentley was very impressed with the Year 6's collaborative work where the children challenged each other to improve their speeches. An excellent job, Year 6!
P.E: Gymnastics
This term we are continuing with our gymnastics and we have been exploring different ways of travelling into and from counter-balance and counter-tension balances as well as composing sequences using a variety of different balances.
Science: Light and Shadows
In Science this term, we are investigating light and shadows. We started off by investigating different light sources and, this week, we have been investigating shadows. In groups, the children had to decide on a question to investigate such as: "What happens to the size of the shadow when you move the opaque object nearer to the light?" They then planned and carried out their investigation so that they could answer their question scientifically.
English: Shakespeare's Henry V
We have been enjoying finding out about the role of the King in Henry V's time; we were fascinated to learn that the King was extremely powerful and had the final say on all mattters. We have used more drama and freeze frames to explore the roles and responsibilites of a King. However, Henry was described as being "wild, undisciplined and powerful" and did not have the right qualities to become King. The children were challenged to write a letter to Prince Henry urging him to change his ways and reminding him of his roles and responsibilies. They did an excellent job using a range of different persuasive techniques.
P.E.: Circuit Training
We will be working hard in P.E. this term as we try to improve our health and fitness through circuit training. We will be recording how many repetitions we can complete at each activity and we will be seeing if we can improve our score each week. The children really enjoyed their first session even if it was hard work!
English: Shakespeare's Henry V
To start our English off this term, we will be reading an adapted version of Shakespeare's Henry V. Our first lesson involved drama and the use of freeze frames so that we could gain an overview of English history at the time leading up to Henry V's war with France which is the major event at the heart of Shakespeare's Henry V. This really helped us to understand what England was like at this time and what had happened before Henry V came to the throne; it was also a lot of fun!
AUTUMN TERM 2016
This term we are journeying back in time to learn about Ancient Egypt. Please click on the curriculum newsletter below to find out what we will be covering:
December 2016
Christmas 2016
Year 6 have enjoyed their final Christmas celebrations at primary school! We had a fabulous time at the Key Stage 2 Christmas party and then enjoyed a yummy Christmas dinner. Merry Christmas everyone!
Godly Play
We enjoyed a lovely afternoon exploring the Christmas story through Godly Play. The children really enjoyed responding to what they had heard in a variety of different ways.
Community Christmas
Thank you to everyone who attended our Community Christmas coffee morning. The Year 6 children were excellent hosts and there was some excellent entertainment. A good job Southwell!
D.T. Bread Making
The Year 6 children have finished designing and making their own bread. We had some a range of different designs from sun-dried tomato bread to cranberry bread in the shape of a Christmas tree. The rolls were all very successful and were enjoyed by the children!
P.E. Handball
Well done to Waddington who won our inter-house competition at the end of the term. Some excellent values shown by all the children including teamwork and determination.
Calendars
Our calendars for 2017 are all finished and ready to go home next week. The children have worked really hard on them and they are stunning. Well done!
Table Decorations
Year 6 have been busy making table decorations ready for our Community Christmas tomorrow. A fab job - they look beautiful!
P.E. - Gymnastics
In gymnastics, the children have been investigating how to identify and demonstrate contrasting, matching and mirroring balances and movements. They have tried to use different spatial relationships with a partner, i.e. following a leader, side-by-side, face to face, back to back, meeting and parting. Working in pairs, they have constructed, practised, evaluated and improved the composition and quality of a sequence. They have then adapted and transfered these sequences from floor to apparatus. They have done a fantastic job!
November 2016
D.T: Bread Making
In Design Technology this term we are carrying out a design and make project. We have investigated how the Ancient Egyptians made bread and we will use this knowledge to make our own bread. To help us with our project, we spent a lovely afternoon tasting a wide range of different breads. As well as tasting them, we evaluated them carefully considering look, taste and texture. This will help us when it comes to desiging and making our own bread.
Chromatography: Who Wrote it?
Year 6 received a worrying message this week which suggested that they should get fewer playtimes and more homework! They were challenged to use the scientific process of chromatography to work out which member of staff had written the note!
Chromatography is a method for analyzing mixtures (such as ink) by separating them into the chemicals from which they are made. It is used to separate and identify all sorts of substances in police work.

We knew the suspects and which pen they had used so we set about trying to find out who had written the note. First of all, we cut several coffee filters into long strips and we then placed a dot from each of the pens near the bottom of each strip together with the name of the suspect. We carefully added water to the glass and put the bottom of the filter paper into the water, making sure that the ink stayed above the water. We allowed the water to soak up the strip and watched as the ink started to separate. We then compared it to the sample from the original note to see if we could find a match.
Because molecules in ink and other mixtures have different characteristics (such as size and solubility), they travel at different speeds when pulled along a piece of paper by a solvent (in this case, water). For example, black ink contains several colours. When the water flows through a word written in black, the molecules of each one of the colours behave differently, resulting in a sort of "rainbow" effect.
If you want to know who wrote the note, you'll have to ask one of the children in Year 6!!
Indoor Athletics
Twelve of the Year 6 children went to Carre's Grammar school on Tuesday 15th November to take part in an indoor athletics competition. They had a great afternoon and represented the school really well. They all showed excellent teamwork, perserverance and effort. Well done!
Ancient Egyptian Archaeologists
This week, the Year 6 chidlren have been Ancient Egyptian archaeologists thinking about what artefacts can tell us about a period in history. We thought carefully about the questions archaeologists would ask, such as:
"What is it made from and what does this tell us about what people could do?"
"What could it have been used for and how does it help us to understand the people in Ancient Egypt?"
"What does it show us about beliefs or everyday life in Ancient Egypt?"
Science Investigation
The Year 6 children have been carrying out lots of investigations in our science topic this term. This week, they were asked a question to investigate: "Are some materials more soluble than others?". The children had to work in groups to plan and carry out an investigation to answer this question. The children worked very well in their groups, showing lots of teamwork to find out which of the following materials was the most soluble: salt, sugar, bath salts, bicarbonate of soda and coffee. We found out that coffee is the most soluble material.
UP Science Workshop
We spent an excellent morning with UP Science and Sleaford Quality Foods learning about the real life science of food. First of all we learnt about science and engineering in industry and, although we tried to think of some, we found out that there are no jobs which don't involve some maths, science and engineering! We then learnt about our smell and taste buds which we need to smell and taste our food. We had to think about our favourite foods and the ingredients that go into that food that make it taste so nice. Finally, we had an opportunity to investigate (smell and taste) different herbs and spices; we then had a go at making our own sauce using a tomato or mayonnaise base. We had a fun, hands on learning experience and some our sauces were delicious (some, though, were not so successful!). Thank you UP Science and Sleaford Quality Foods for an engaging morning of learning.
Visit to St. Andrew's Church
Year 6, together with Year 5, visited St. Andrew's Church as part of their R.E. topic studying religious symbols. We had a fantastic afternoon with Canon Pennock where she described numerous religious symbols within the church. We were intrigued to find out that the church itself is a symbol and points to the east! It was a fascinating afternoon and we all learnt a lot both about our local church and about the religious symbolism within it. Thank you Canon Pennock!
We then had the opportunity to explore the church and practise our sketching skills. We looked particularly at sketching objects within the church that showed the religious symbolism.
October 2016
Art: Egyptian Clay Cartouche
In art, we have been learning about Ancient Egyptian cartouche. A cartouche is an oval frame which surrounds the hieroglyphs that make up the name of an Egyptian God or royal person. It was like a name tag which has the magical power to protect the name that is written inside it. A cartouche was meant to protect against evil spirits both in this life and the afterlife.
We designed and made our own Cartouche using our names and then decorated them with patterns and borders.
We painted them, decorated them with gold and silver pens and then finished them with a glaze using PVA glue.
P.E: Basketball
Our focus this term in P.E. has been basketball. We have practised our passing, tackling and shooting skills and have thought about how we can use space when playing competitive matches.
Pyramid Homework
In our topick work, we have been learning abou the Ancient Egyptian pyramids. We have learnt that they were built as tombs for the pharaohs and were decorated with tomb paintings to show the life of the person the tomb belonged to. For homework, the children were challenged to use their maths skills to contruct an Ancient Eygptian pyramid. Before constructing the pyramids, the children had to decorate the insides with tomb paintings to show the life of the person the tomb belonged to. The children produced some excellent, authentic work!
Music: Djembe Drumming
In music we are investigating rhythm and learning how to play the Djembe drums. Mrs Bentley taught us some body percussion; we were split into two groups: one group had three beats against the other group's four. It was a challenge but we all managed to finish at the same time!
We are now composing our own rhythmic drumming compositions to honour the Ancient Egyptian gods. We will upload our compositions once they are finished.
Papyrus
We have been learning about how the Ancient Egyptians made papyrus. We had a go at making our own papyrus using paper towels, glue and cold tea and we are very pleased with how it turned out. We then investigated the Ancient Egyptian writing system using hieroglyphs. Did you know that there are over 700 different hieroglyphs? We had great fun being Ancient Egyptian scribes and decorating our own papyrus. Here are the finished results:
Science: Separating Materials
This term in Science, we are investigating how to separate materials. We have carried out lots of hands-on, practical science investigations to learn about how we can separate different materials. We have also learnt about soluble and insoluble materials and which create solutions and which create mixtures. Mrs Bentley set us a challenge to investigate the best material to filter and clean the dirty river water from the River Nile! We found out that cotton wool made the best filter and made the water the cleanest.
September 2016
Ancient Egypt Topic
We started our topic by thinking about history and timelines. The children were given several historical events / time periods and they had to sequence them in chronological order. There was a lot of debate in class!
Growth Mindset
This year, we are focusing on developing a growth mindset in our learning. We spent time learning about the difference between a fixed mindset and a growth mindset. We have decided that we will all try and have a growth mindset in our learning so that we can challenge ourselves and achieve our very best learning.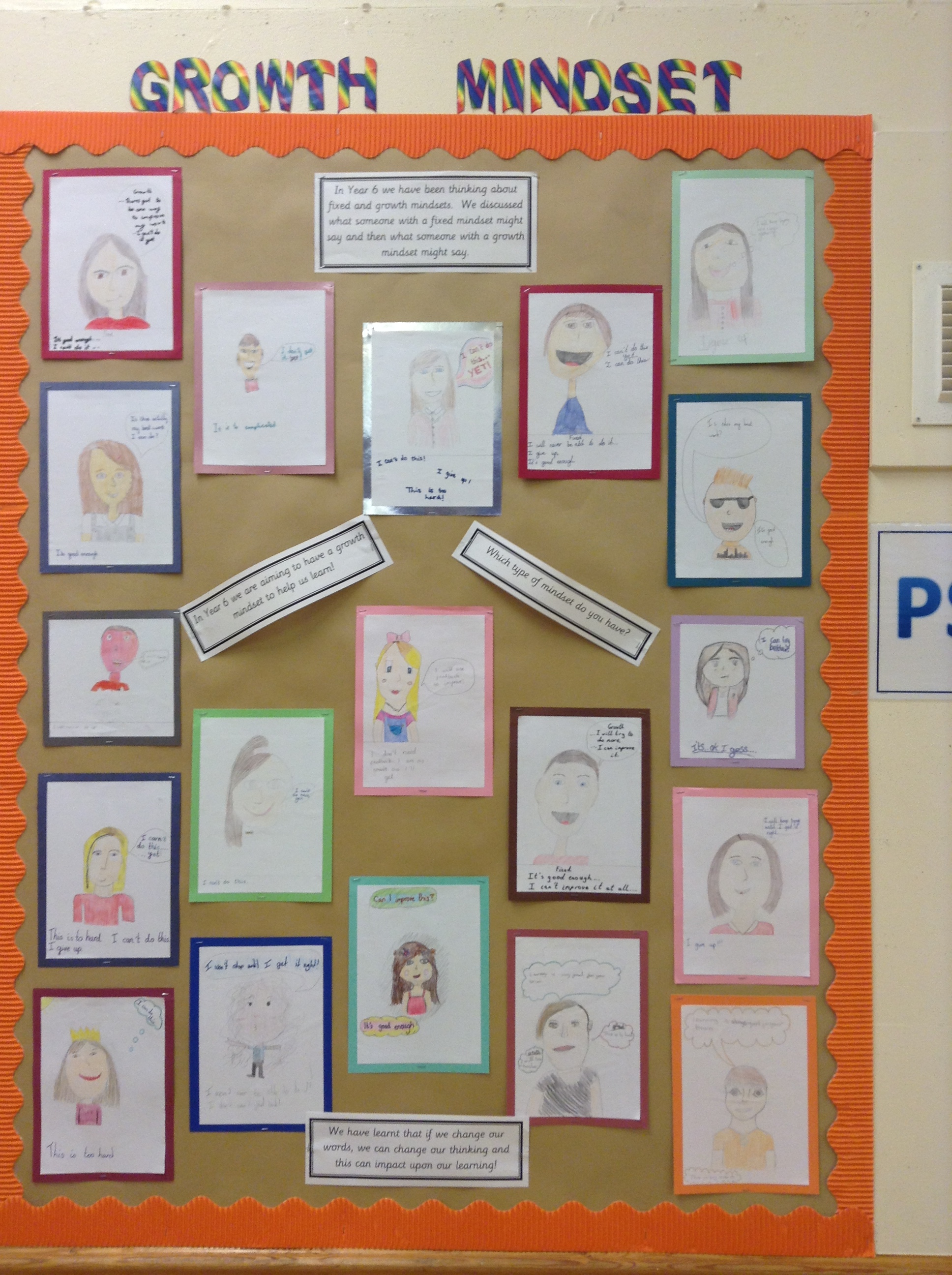 !
Click on the picture to go to our pupil page