Welcome to Winchester Class

Click on the picture to go to our pupil page
Autumn Term - Traditional Tales
Welcome to Year 2! Our topic this term is Traditional Tales. To see the Curriculum Newsletter click the link below:
Den Building
This week Year 2 and Year 3 had the exciting opportunity to do some den building. For the whole afternoon we had to create our own dens using sticks, piping and sheets with no adult help! We had a fantastic afternoon learning lots about how to make a den and work as a successful team. It also linked well to our Science topic of materials which allowed us to think about what materials we would need to make a den ensuring it was strong and waterproof.
Art
In Art, we have been learning about the primary and secondary colours. We used paintings by Klee and Kandinsky to discover the primary and secondary colours before creating our own painting. Our paintings took inspiration from Kandinsky's Concentric Circles painting. First we had to pick 8 colours for our backgrounds. We then had to coil string around a template before printing it onto the backgrounds.
English
In English this week we have been reading the story of Goldilocks and the Three Bears. To help us remember the story we have drama and sequencing. Whilst the book was read, we came up with our own actions to help us remember the key events. The pictures below show different parts of the story. Can you work out the different parts?
September 2017
This week, we read the story of the Rainbow Fish. The story helped us to understand the importance of working together as a team. The children then created their own rainbow fish to go onto our classroom display. We used bubble wrap and painted it to create the scales on the fish, we then sprinkled it with glitter to show the sparkly scales on our fish.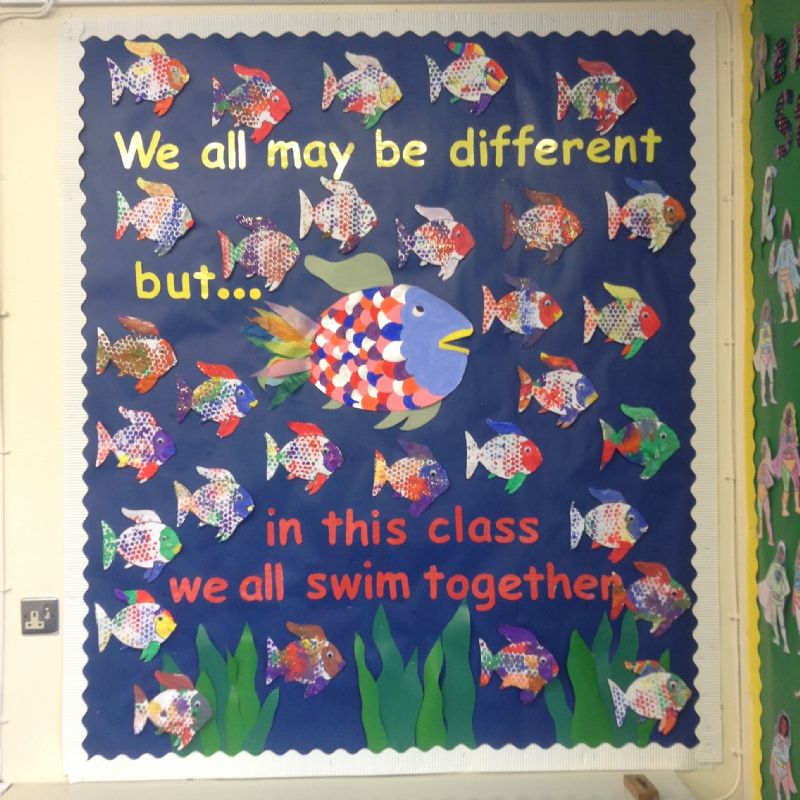 Music
This term in Music we are learning how to play the Ocarina. We went to the outdoor classroom and learnt how to hold the Ocarina and how to play it. As the term goes on we will learn to play different notes and rhythms.