Welcome to Winchester Class

Click on the picture to go to our pupil page
Summer Term - Bright Sparks
Welcome back! I hope you all had a fantastic Easter! The topic in Year 2 this term is 'Bright Sparks'. This is a History based topic and we will be finding out all about The Great Fire of London. We will also be looking at the lives of Isaac Newton and Christopher Columbus. Click the link to read our Curriculum Newsletter to find out more:
Author Day
This week, Year 1 and Year 2 had the exciting opportunity to speak to an author and learn about how to become an author. Hil spent the day with the children, sharing her book 'Ruby, Alfie and The Mother's Day Card' as well as teaching us how to start writing a book. She showed us the importance of drafting and re-drafting and this linked with our assembly theme of endurance. The children had a wonderful day and felt very inspired to start writing their own stories!
History
This term, in History, we are looking at The Great Fire of London. We started our learning by exploring the events of the fire inlcuding the reasons why the fire lasted for four days. We found out that one of the main reasons was that the houses were very close together and the overhanging jettys meant that neighbburs could shake hands through the windows. To help us understand this we rearranged our chairs to create the narrow streets of London in 1666. Each chair represented a house and the children shook hands with the people around them to get an idea on how close the houses really were.
Spring Term - Home and Away
This term we will be learning all about where we live and how it is similar/different to other places around the world. Click the link to read our curriculum newsletter to find out what we will be learning about:
World Book Day
On Thursday everyone in school looked a little different. It was World Book Day so everyone dressed up as their favourite book characters, including the teachers! Miss Banks and Miss Fryer were blown away with the children's costumes so a big thank you to all the children and adults for making the day so special.
As it was World Book Day, we decided to do some Maths based on our favourite books in class. As a class we created a tally chart about our favourite books. The children then created their own pictograms using the data from the tally chart. In English, we finished reading our book Beegu before reviewing the book and drawing a picture from our favourite page.
PE
This term in PE, Winchester class have Mr Green showing us some new skills and games. We have been learning about throwing and catching and how to do this effectively. We have also been playing different games, thinking about how to use our dodging skills to get a ball from an opponent.
Art
This term in Art, we have been looking at the work of Vincent Van Gogh. Our focus has been his 'Starry Night' painting. We spent some time looking at the painting, thinking about all the different things we could see. We also discussed how he created the different effects in the painting. Our task was then to create our own version of the 'Starry Night' painting. We started with the background, using different shades of blue to create swirls. We then moved onto the foreground, painting the mountains and village. Finally, we added the detailing at the front. The children worked extremely hard on their paintings and really thought about painting in the style of Vincent Van Gogh.
Safer Internet Day
On Tuesday 5th February it was Safer Internet Day. Over the week, the whole school took part in various activties and games to help us think about how to stay safe online. In Year 2, we read some stories about children using the internet. The stories helped us to see the importance of asking for permission, not sharing personal information as well as asking adults if we are unsure of anything. We created posters to help remind other children of how to stay safe online.
English
This week in English, we have been reading the book 'Handa's Surprise'. Before we read, we made predictions about what we thought would happen in the book. We went on to use drama to retell the story. The children really thought about how to get into character and how to use their voice to add more to their performance. We moved on to thinking about the fruits in the story. We used our senses of taste, sight, smell and touch to think of adjectives to describe the fruits. We were all very brave trying the fruits, especially the passionfruit as we didn't think it looked very nice!
Autumn Term - Superheroes
This term we will be learning all about Superheroes! Click the link to read our curriculum newsletter to find out what we will be learning about:
RE
In RE this term we have been learning all about the Christain faith. We have looked at different places of worship and the different artefacts found in a church. We went on a visit to church with Year 1 to spend some time looking at all the items inside a church. We enjoyed spending time in the church and found lots of things we hadn't noticed before.
Also, this week in Year 2, we recieved our own Bibles. These were for us to take home and keep. We were delighted to recieve them in assembly and spent the next lesson looking through our Bibles, finding different stories and drawing pictures from the Bible.
PE
This term we have been lucky enough to have Mr Green helping us with our PE. We have been learning all about gymnastics including how to balance, roll and jump effectively. We have loved our PE sessions.
Art
We had a message from a superhero and the message said that the superheroes needed help to design a new mask for them to wear. We used felt tips to create our design on paper, before bringing our design to life on the Ipads. We used the program 'Brushes' to create our masks. Miss Fryer took a picture of us and we then used 'Brushes' to draw a mask over our faces. We had to think about the colour and the style as well as developing our painting skills on the Ipads. I think you'll agree that the outcome is fantastic!
DT
In Design and Technology, we have been creating our own movable superheroes. We made a design before copying our designs onto card. We then had to cut out our superheroes very carefully. After that, with a teacher, we used split pins to join all of the parts of the superheroes together. We love our finished products and can't wait to take them home. However, Miss Fryer liked them so much, we are keeping them on display for a few weeks first.
Our superheroes took over our display! Well done Winchester Class, they look fantastic!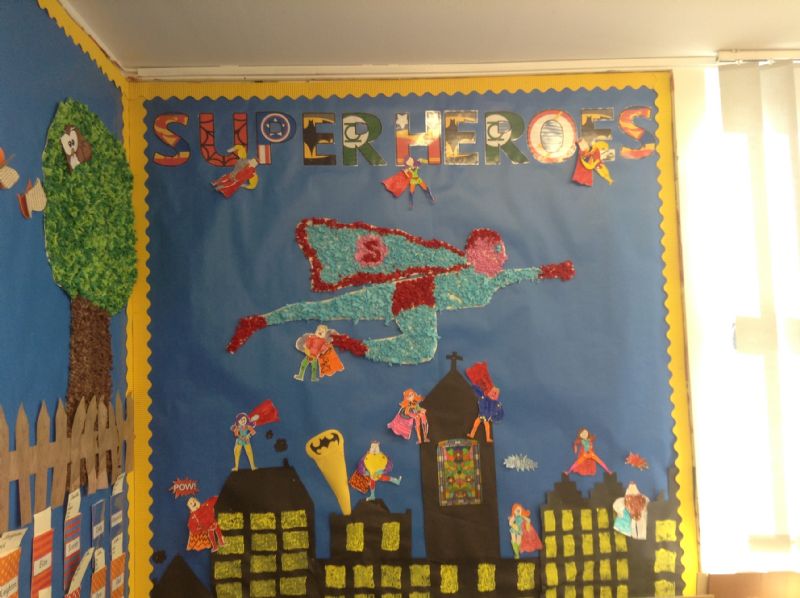 English
At the start of the term, Year 2 looked at some poetry. We looked at a type of poem called a Kenning. We learnt that a Kenning always had two words on each line and usually asked the reader to solve it. We wrote Kennings about different animals and then we wrote some about ourselves. We then moved onto the film The Incredibles. We started our learning by watching a clip from the film and discussing the sequence of events. We then went on to describe some of the characters. We hope to be writing our own Mr Incredible adventures. We also enjoy reading in class, especially sharing stories with friends.
Maths
In Maths, we have been revisiting our knowledge about Place Value. We have been manipulating numbers up to 100, splitting them into different tens and ones. We have been looking at number patterns and creating our own number patterns.